WebApp: Owncloud Plugin, Version 1.3 released
Posted by christoph on 01 05 2013. 0 Comments
The Owncloud plugin reached a new level of usability. It now contains a fully featured file browser, which allows users to display, delete or move files directly in WebApp. Of course it supports renaming, up/downloading and sending files via email too. And all of that features are available in multiple languages, currently in English, German and French. If you want to see the plugin in your language just grab the latest translation file and send the translated version to zarafadev [at] sprinternet [dot] at.
The preview feature can display videos and images, play music and view pdf or text files.
Version 1.3 is now also compatible to any other webdav server. You can even setup the port to your webdav server and rename all buttons from "Owncloud" to any other name.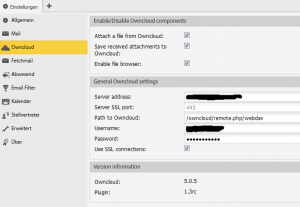 There are many improvements in the back-end like better debug logging, nicer error handling and a request caching mechanism. The caching mechanism could be en/disabled in the config.php. You have to set the path where the cache file should be stored, your web-server needs write permissions in this directory.
There is a much longer list with changes and improvements which you can see in the changelog.
I have tested this plugin with WebApp 1.3-38243 and WebApp 1.3.1-41348. You must have PHP >= 5.3 installed. Please note that the webdav browser will not work correctly with Owncloud 5.0.0 – 5.0.3 due to this bug. All other Versions are working fine.
Download the latest version from here!
If you like my plugin, then think about donating some bucks to help the development.